Oh So
Tasty
ESPRESSO GRANOLA MUFFINS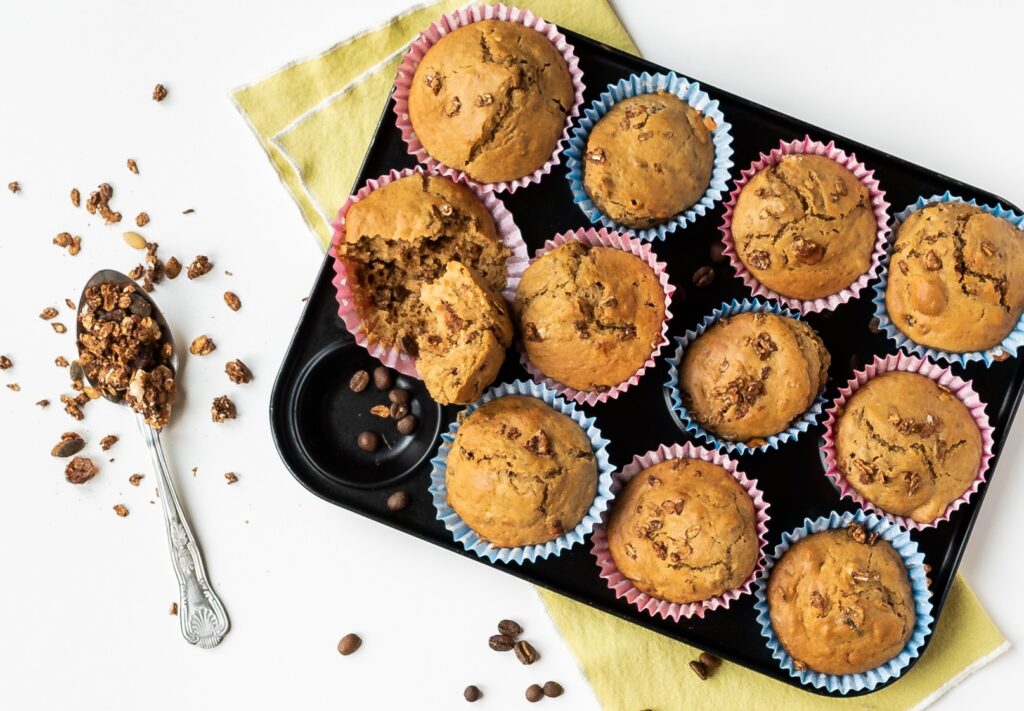 We've teamed up with the good folks at Two Chimps Coffee to bring you these deliciously moreish espresso muffins. Made with our Chocolate & CBD Granola and Two Chimps premium coffee – it'll bring focus and energy to your morning.
Ingredients
250g plain flour
1 tsp bicarbonate of soda
100g light brown soft sugar
¼ tsp salt
220ml buttermilk
1 egg
50ml vegetable oil
Double shot espresso or 3 tbsp very strongly brewed coffee
180g Primrose's Kitchen Chocolate & CBD Granola
50g walnuts
Method:
Heat oven to 200C/180C fan/gas 6 and line 12 holes of a muffin tray with paper cases
In a bowl, combine the flour, bicarbonate of soda, sugar and salt
Whisk the buttermilk, egg, oil and cooled coffee together in a jug
Pour the wet ingredients into the dry and mix briefly
Fold in the granola and walnuts
Divide the mixture between the muffin cases
Bake for 5 minutes, then reduce oven to 180C/160C fan/gas 4 and bake for 15-18 minutes more until risen and golden
Leave to cool in the tin for a few minutes before transferring to a wire rack to cool fully
Dive in – they're best when still slightly warm!