Oh So
Tasty
Strawberry Breakfast Coconut Bowl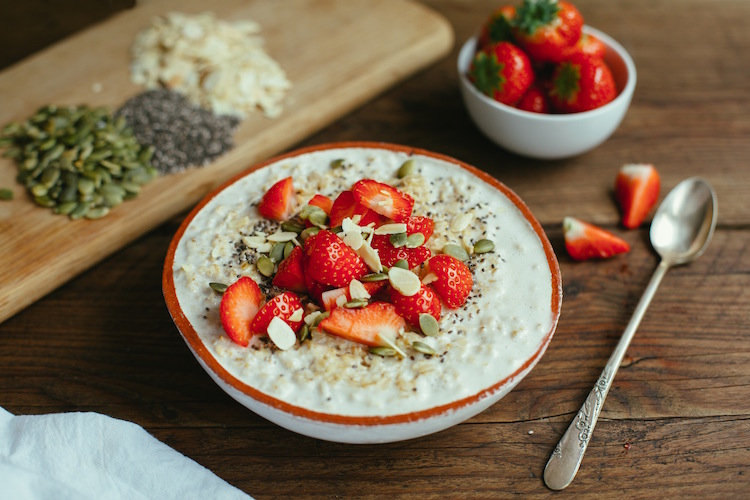 For the oatmeal:
2 cups rolled oats (not the instant kind)
2 tablespoons chia seeds
2 tablespoons unsweetened shredded coconut
2 tablespoons pure maple syrup
1 can coconut milk
1 cup unsweetened almond milk
1 teaspoon pure vanilla extract
For the topping:
Fresh ripe strawberries, quartered
Chopped almonds
Pumpkin seeds
Non diary milk (I used soya)
Method:
For the cold version (overnight oats):
Add all oatmeal ingredients to a large container with an airtight lid and stir well. Seal and place in the refrigerator overnight (or at least 6 hours).
Divide the oats between four bowls and pile each with strawberries, pepitas, and almonds. Add additional almond milk or coconut milk if desired.
For the hot version:
Add the oats, chia seeds, coconut, maple syrup, coconut milk, and soya milk to a medium-sized pan. Bring to a full boil over medium-high heat, then reduce heat and simmer for 15 to 20 minutes, stirring occasionally, until oatmeal has thickened and the liquid has been absorbed. Remove from heat and stir in vanilla extract. Divide between four bowls and top with strawberries, almonds, and nuts, along with additional almond and/or coconut milk, if desired.