Tipi Valley Yoga, surf and soul retreat by Primrose Matheson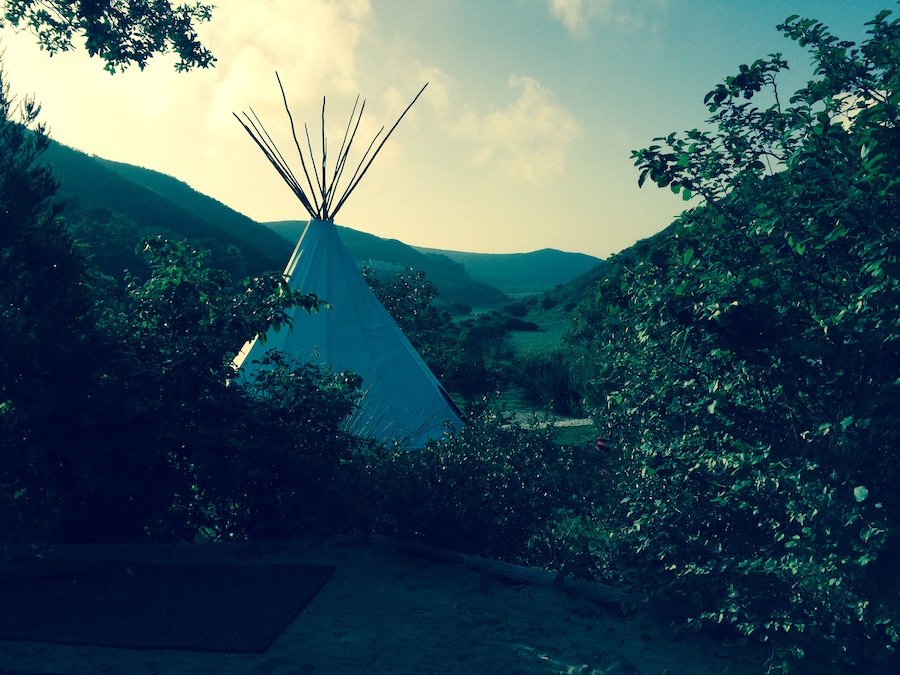 I was lucky enough to be able to escape blighty last week and find myself in the Oasis in Portugal that is Tipi Valley, an eco surf and yoga retreat based in the western Algarve of Southern Portugal next to the town of Aljezur started by a travelling Yogi Laurie Quirk 9 years ago.
From the moment I got in my taxi at Faro and was greeted by my friendly taxi driver Luis I knew I was in the right place. Not only a taxi driver Luis was also a Reiki healer and his taxi was adorned with healing symbols and angels. He had a mindful attitude to life. This mindfulness conveyed a huge appreciation for the freedom we all have in our lives if only we can empower ourselves to take it. This would become a common thread with the souls I was fortunate enough to meet.
An hour from the airport we arrived at the top of a valley, all around was lush vegetation and blankets of white rock rose flowers that added the most wondrous aroma to the air. I was met by a very handsome Italian called Luca who was going to drive me down the treacherous looking dirt track into the camp. He had abandoned a career in law to pursue his passion for surfing and it had brought him here as a manager.
The camp itself was beautifully designed, with permacultured gardens weaving amongst tipis, bell tents and yurt constructions. Everything is designed to have as little impact on the environment as possible. From the boutique compost loo to the open-air solar showers, at every corner you were at one with nature.
I was shown to my tipi in the centre of the camp, which I was to share with a lovely Scottish woman who was a permaculturalist, she had been living in California and was taking a last trip before returning home to Scotland. The beds were standard very comfy singles complete with duvets, extra blankets if needed and mosquito nets.
Once the meeting and greeting had been done with the other 8 people on the retreat and we had filled ourselves up on fresh fruit and lemon verbena tea (picked straight from the bush!) it was time for our first yoga lesson.
Dakota our teacher was from Las Vegas and was spending 1 month in Tipi before going back to the USA. She had a lovely style of Ashtanga, which was the perfect antidote to a confined easyjet flight.
Yoga is practiced outside on a platform overlooking the camp and the rest of the valley twice daily. It was by far the most blissful studio I have had the pleasure of doing yoga in, it added a whole new element to my practice.
After yoga a delicious vegetarian spread was waiting for us on the outside communal table. Local black olives, olive oil, rye bread and chickpea curry with brown rice. A holiday isn't complete without great food and although simple Tipi didn't disappoint.
More tea in the communal area and getting to know my fellow crew, a mix of doctors, musicians, midwives and natural therapists and then off to my tipi and under my mosquito net ready for my first full day.
The birds sing all through the night, which put me into a sort of wonderful trance and deep sleep. We spend so much of our lives disconnected to the earths magnetic energies because of our rubber soled shoes and tarmac that sleeping connected to it physically as well as being totally enveloped in the sounds too felt a very nourishing and cleansing experience. It also encouraged a lot of dreaming!
7.30am I was heralded from my bed by the sound of a gong. I wondered if the Tibetan monks were woken in this manner.  Waiting for me in the communal tent was cumin tea, a great reviver and blood tonic first thing along with cut up perfectly ripe melon.
Ten minutes later we were in full downward dog mode and waking up as the sun rose. Dakota made gently adjustments and revived us with wonderful ginger essential oils at our temples.
Having now worked up a serious appetite I was excited to see a spread of chopped fruit, yogurt, orange juice and muesli. We had the option of scrambled egg on rye bread or porridge made with soya milk, apple and walnuts, which was the best I have ever tasted. You can taste in the food that a lot of love and attention goes into creating the meals. A lot of the ingredients are grown on site adding to the fresh flavours. There is a really strong sense of connectedness to all things here and moment to momentness, which is so refreshing in the rush of everyday life.
At 10am David owner of the Odeceixe surf school arrived to take us off to Odeceixe beach for our first day of surfing. A stunning beach, it becomes and island at high tide as the sea joins with an estuary at its back. Roger was our teacher and after warm-up stretches on the beach and some tuition we were set free into the white surf where the laughs begun.
Having only surfed once I was no natural and after our hour and half session I was exhausted and drowned my sorrows at lack of natural talent in some delicious locally made sweet potato and almond cake in the café and updated my journal. Afternoons are free time. All was well.
Thank fully my surfing ability improved over the week and we were taken to an array of some of the most beautiful deserted beaches I have ever seen (also favoured by our prime minister whose photograph adorned a cafe wall)  and by the end of the trip I was surfing the "green waves" at a famous beach spot Arrifana. This was also home to brilliant live music in the café there on a Thursday night I discovered.   Now I have crossed what the surfer's term "the point of no return" and feel like I too will have a life of chasing the perfect wave.
I believe that we should never cease from seeking, always being curious, never ready to be content with set patterns or thoughts if we want to really grow and the surfers way strikes me as a perfect allegory for this way of being.  The surfers I met had either started their own businesses teaching or were woofing over the season. Financially this way of life has no guarantees but they are being led by their passion for the waves and the rest takes care of itself. Many people might say this is just luck but I believe when we fully find what we are passionate about and have the courage to step out of our comfort zone to follow this path we are in the flow of life and life will take care of you like it took care of us in the womb without us worrying about it!
As a retreat you may be under the illusion that it is all very relaxing. I hate to disappoint but this is a retreat for those looking for a renewed sense of vitality and physical strength through a lot of exercise. There was a reason I ate three times my body weight each day and that was the amount of energy I was using. But after the third day dip this idyllic boot camp paid off and I could feel my core strengthen and more flexibility than ever before. If you make the commitment to this retreat it will reward you ten times over.
Everyone who talks about Tipi knows what a special place it is nestled in the nature reserve and I encourage you to have the experience if you get the chance. With no wifi or electricity Tipi quieted my mind, supported my physical body and invited me back to the moment where everything was simply perfect!
You can choose from a 5 or 7 night stay for between 500-700 Euros depending on sharing or single occupancy tipis.
www.tipivalley.com