Pose Of the Month September- by Emma Despres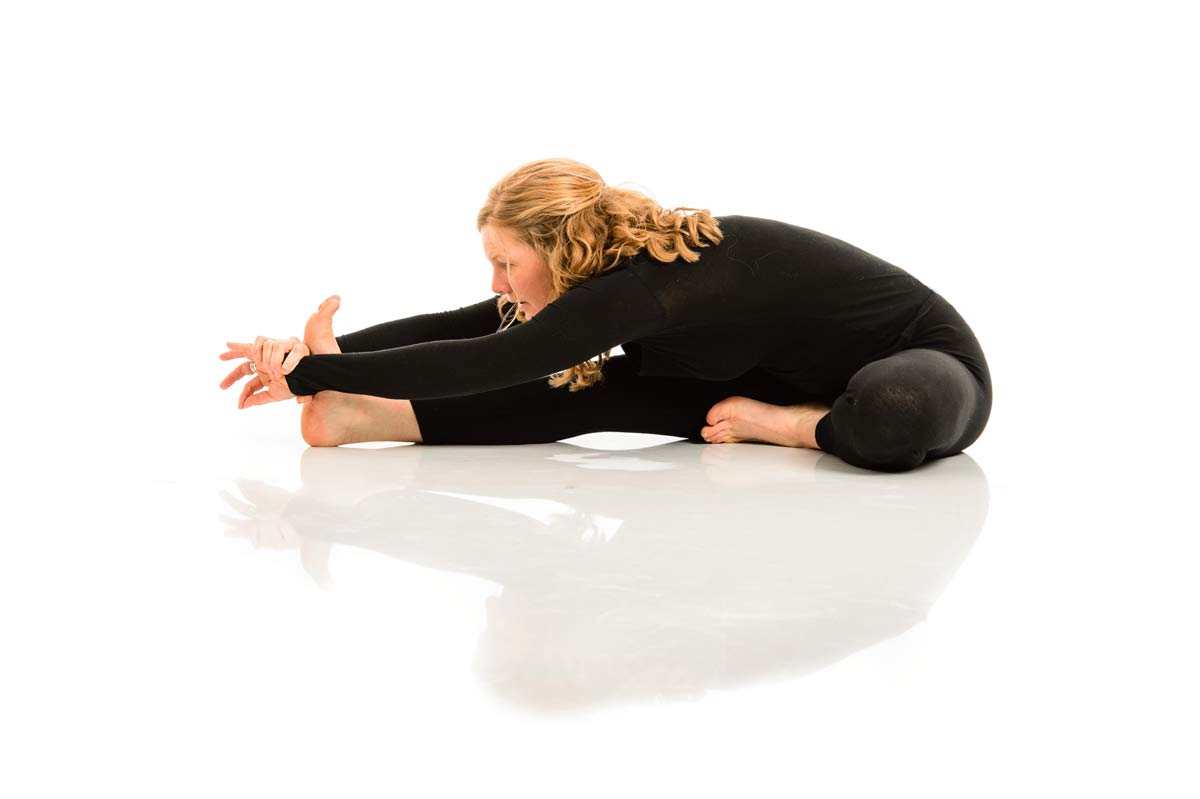 Pose of the Month – September – Janu Sirsasana (head to knee forward bend) by Emma Després
Phew, where is this year going – it seems incredible that September and the beginning of autumn are  upon us already, but sure enough the signs are everywhere – browning leaves falling from the trees, blackberries brightening the hedgerows, cooking apples for sale on the side of the road, the changing light and (sadly) the evenings drawing in.
It has been a marvellous summer though, lots of sunshine, outdoor living and socialising, so that it has zoomed past and the changing season comes as a bit of a shock to the system.  Still all good things must come to an end and autumn brings with it routine as the children return to school and attendance at yoga classes becomes more regular again.
There is some comfort that comes with the familiarity of routine, especially with the unsettling nature of the transition between seasons.  And more so in autumn, because of course this season is all about letting go and new beginnings- very true for so many as children start nursery and school for the first time and teenagers fly the nest to University.
This is also a time of blessings and harvesting, of being grateful – and indeed acknowledging – all that we have in our lives.  Out in the wider world there is a lot of crazy and scary stuff happening at the moment and the news is filled with one humanitarian crisis after another, so it is important, and indeed poignant, than we take stock and remember how fortunate we are to live in such a relatively protected and privileged world.
On our yoga mats it is time to come back to earth a little after all the activity and comings and goings of the summer, to simply sit on the earth and take a few deep breaths in and out before settling into a nurturing and centring forward bend and letting all the happenings wash over us.
Benefits
Calms the brain and helps relieve mild depression;
Stretches the spine, shoulders, hamstrings, and groins;
Stimulates the liver and kidneys;
Improves digestion;
Helps relieve the symptoms of menopause;
Relieves anxiety, fatigue, headache, menstrual discomfort;
Therapeutic for high blood pressure, insomnia, and sinusitis;
Strengthens the back muscles during pregnancy (up to second trimester), practiced without coming forward, keeping your back spine concave and front torso long.
Contraindications and Cautions
Asthma;
Diarrhea;
Knee injury: Don't flex the injured knee completely and support it on a folded blanket.
Photography by Nick Despres, please see www.nickdespres.com