Pose of the month May-Natarajasana (Lord of the Dance pose) by Emma Despres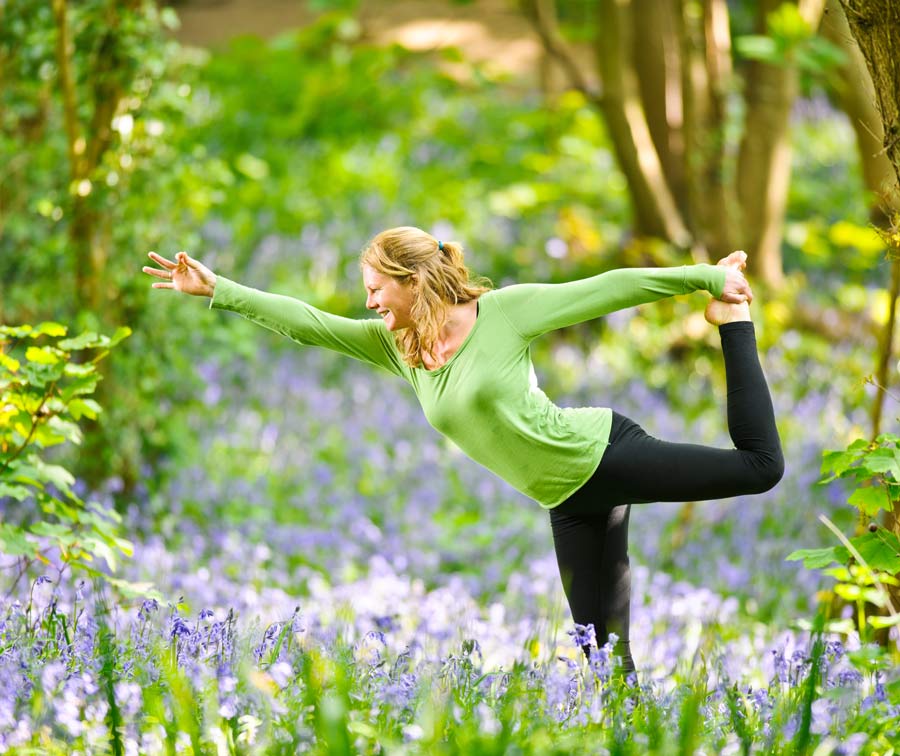 Yoga pose of the month for May – Natarajasana (Lord of the Dance pose) by Emma Després
I find this time of year just wonderful as the April showers pass to leave us with a rich and fertile landscape.  The outside world is stunning with all those delightful spring flowers contrasting beautifully with the lush greenery and the breath taking blossom on the trees – it just reminds me what a wonderful world we live in.
In the Pagan calendar May brings with it Beltane, which is a celebration of fertility and fire. Officially beginning at moonrise on May Day Eve, this day marks the beginning of the second half of the ancient Celtic year.  It is celebrated as an early pastoral festival, welcoming the abundance of the fertile earth and accompanying the turning of the herds out to wild pasture.
Furthermore, during this month it is said that Earth energies are at their strongest and most active so that all of life is bursting with potent fertility and filled with passion, vitality and joy.  This energy provides us with an ideal opportunity to bring ideas, hopes and dreams into action, so that we can make positive changes in our lives.
So too as the weather warms, we may find that we can practice outside and literally tap into the Earth's fertile energy, invoking the power of the Goddess in the process. Incorporating Natarajsana, such a graceful pose, into your practice is a fabulous way to celebrate this light filled time and to express gratitude for the beauty, abundance and richness of all life.
Benefits
Develops concentration and balance;
Tones and stretches the leg and hip muscles;
Stretches the hip flexors;
Strengthens the arch in the standing foot;
Develops range of motion in the shoulders;
Expands the chest and front body;
Opens the heart space;
Evokes a sense of grace;
Encourages grounding;
Strengthens the back body in a back bend.
Contraindications
Shoulder injuries;
Low blood pressure.
Photography by Nick Despres, please see www.nickdespres.com