Pose of the Month – March – by Emma Després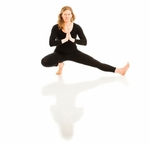 Skandasana (side Leg Stretch)
I do not know about the rest of you, but I am absolutely delighted that Spring is almost here. It feels like it has been a long time in coming with all the seemingly endless wet weather we have experienced recently.
That aside, this is most certainly one of my favourite times of year. All the new life begins to appear, full of potential. The brightly coloured daffodils and crocuses, the fresh buds on the trees, the baby lambs and kids and of course the evenings drawing out and more light to be enjoyed in nature, what bliss!!
The energy is vibrant with all this new life and I am certainly keen to slow down and tap into it. I am sure I am not alone in finding the last few months a little challenging with all the manic New Year energy and the moon shaking things up a little.  To say nothing of all the dark mornings and evenings creating a feeling of heaviness and lethargy.
So here we go, Spring and the Spring Equinox are shortly upon us and with that an opportunity to embrace the lightness and balance that these both bring. Appreciating the moment (slowing down see) and enlivening for the warmer and indeed lighter months ahead. What better way to begin the process than by taking to our mats and practicing Skandasana, a favourite of mine for the benefits it offers.
Skandasana (Side Leg Stretch)
Benefits
Stretches and tones the hamstrings and inner thigh muscles;
Promotes balance and serenity;
The bent knee is strengthened;
The spine is stretched;
The posture opens the hips;
Calming for the mind;
Strengthens kidney energy.
Photography by Nick Despres, please see www.nickdespres.com