Pose of the Month – July – by Emma Després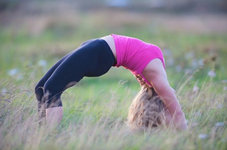 Urdhva Dhanurasana (Upward Bow Pose)
Summer is here! Phew, it feels like it has been a long time in coming this year so for us July is all about getting outside and embracing all that the British summer has to offer – trips to the beach, swimming in the sea, outdoor yoga classes, watching the sun setting and the sun rising, picnicking with friends and family, bike rides and evening cliff walks enjoying the smell of the honeysuckle, fresh and abundant vegetables and soft fruit, bbqs and laughter, festivals and camping, live music and dancing. This month is all about having fun, enjoying the abundance in all life and creating more happy memories.
This is also most definitely the month for practicing yoga outdoors and I love nothing more than this – hearing the tweeting of the birds and feeling the sensation of the sun and the light breeze on my skin, and of course the grounding nature of literally being surrounded by nature. I like to move and stretch and open my heart to the heavens which not only feels incredibly liberating, but really helps to increase that sense of joy and lightness that comes from practicing back bending poses – I can never get enough of this marvellous pose, it just feels so great!. Happy summer everyone, hope you enjoy it on and off the mat!
Urdhva Dhanurasana (Upward Bow Pose)
Benefits
Increases flexibility and range of motion in the spine;
Strengthens the shoulders, arms, wrists, legs and spine;
Opens the chest and shoulder girdle;
Gives great vitality, energy and a feeling of lightness;
Helps to remedy reproductive disorders in women;
Helps to cure headaches and migraine;
Beneficial for the nerves and the glands;
Opens the heart and makes one feel alive.
Contraindications
High blood pressure and glaucoma;
Shoulder or wrist problems;
Low back injury;
Stomach ulcers and intestinal disorders;
Pregnancy;
During illness.
Photography by Nick Despres, please see www.nickdespres.com