Pose of the Month – January – by Emma Després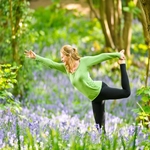 Happy New Year!   And hooray for a brand new year ahead filled with possibilities and potential!
I am sure I am not alone in saying that I have found 2014 challenging on so many levels. The fact is the energy was very much encouraging us to see, and indeed acknowledge, our shadow side and while this is – eventually – liberating, it is never an easy process. The trouble is we grow, and in the
process we outgrow various parts of ourselves and there is a dis-resonance as the old bits drop away and our outer world adjusts to mirror our new inner world again.
New Year provides an absolutely fantastic opportunity to consider where we are headed and what we no longer need in our life. This is a time to let go of all we no longer need, all those tiring aspects of ourselves so that we can create space for the new to enter our lives. I would certainly encourage a New Year's Eve burning bowl ceremony, there is a plethora of them detailed on the internet, especially if you are Reiki attuned. And once you have let go of those things no longer serving you, you can focus on what you would like to bring into your life and establish intentions and indeed create your own vision board for 2015, there is so much power in doing this.
As for our yoga practice, well this is the time of year when classes tend to be at their busiest as people set off on their "new me, new year resolutions". If that applies to you then well done for getting going again, but how about keeping with it, making it an intention for 2015, and seeing how your life transforms as you maintain a regular practice and join the rest of us regular practitioners in trying to raise the vibration of the world and making this a more harmonious world to live in. It is never easy but I believe you feel better for trying!
And with that in mind let us open the heart with Natarajasana, the dancing Shiva pose, a wonderful pose to begin your new year.
Natarajasana (Lord of the Dance)
Benefits
Develops poise and grace;
Tones and strengthens the leg muscles;
Strengthens the ankles;
Encourages a sense of balance;
Opens the chest and heart space so that we can hear deep within;
Strengthens the back and benefits the vertebral helping those with mild back pain
Lifts the spirit and makes us feel light on our feet;
Calms the mind.
Contraindications
Common mistakes
Bending the standing leg.
Focus the mind on a fixed point.
Photography by Nick Despres, please see www.nickdespres.com