November Pose of the Month- Savasana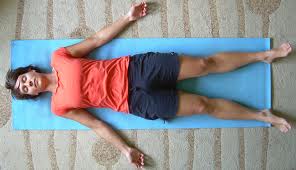 Pose of the Month, November 2013- Savasana, by Emma Després
With surprisingly warm temperatures over the last month, we have been fortunate to experience a relatively gentle transition from summer to autumn.  Admittedly the darker mornings take some adjusting, so too the darker evenings, although the recent Aries full moon was a joy in the way it lit the sky, reminding us that for every negative there is a positive.
With Samhain, which means "the end of the summer", being celebrated on 31 October, we are now entering the beginning of the Celtic year.  Traditionally this is the time to rest and re-evaluate your life and goals, overcoming negativity or opposition that may surround your achievements or hinder future progress.
With Mercury going retrograde from 21st October to 10th November, retreating is very much encouraged.  This can be a time of some confusion so adopting a "go with the flow" and "go slowly" attitude should be encouraged.  Mercury retrograde wants us to move back spiritually, providing us with the opportunity to re-examine various areas of our life which may need a little more work, or tying up loose ends so that we can move forward with more clarity and light in our lives.
With the nights getting darker and the temperatures due to drop, I encourage wholeheartedly embracing the energy of the planets and taking time out to retreat over the next month, wrapping up warm, turning off the telephone, computer and television, burning some Ylang Ylang incense or aromatherapy oil, lightening a few candles, playing some relaxing music or a Yoga Nidra CD and resting in Savasana for a good 20-30 minutes or so.
Savasana (Shah-VAHS-anna) – Corpse pose
This pose requires you to lie flat on the ground, eyes closed, chin tucked gently towards your chest, back of the neck long, head still.  Straighten your legs and take your feet approximately hip distance apart with toes relaxed and falling out to the side.  Arms are flat, palms of hands turned up a few inches away from the side of your body. Draw your shoulders down away from the ears, relaxing the arms, hands and fingers.  Lengthen through your lower back and soften the buttocks.  Make sure you are warm by wrapping yourself in a blanket and perhaps place an eye pillow over your eyes to calm your nervous system and soother your mind.
Benefits
Calms the nervous system and the brain;
Helps relieve stress and mild depression;
Relaxes the physical body, helping to release tensions;
Assists healing;
Reduces headache, fatigue and insomnia,
Helps to lower blood pressure;
Contraindications
Those with back injury or discomfort should do this pose with their knees bent and feet on the ground hip distance apart, or place a bolster under the knees.
Pregnant ladies in second and third trimester should lie on their left hand side.
Photography by Nick Despres, please see www.nickdespres.com