New Year Kale and Nori Salad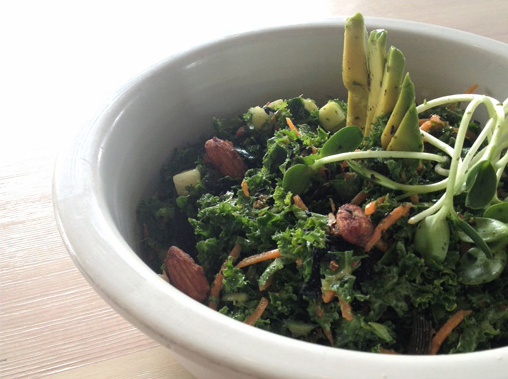 Happy New Year Muesli Munchkins
Following on from Emma in her Pose of the month article who said 2012 was a year of change and 2013 a year of creation I see 2014 as the year of health on all 3 levels:
MIND, BODY, SPIRIT
Congratulations for making valuable changes in your lives, now we need to make sure these new ways stick and we don't slip back into the old. Focusing on diet, mindfulness techniques and regular exercise will continue to help us stay in a self empowered state neccessary to continue to create the reality we desire.
As we move forward as individuals in our lives in a self responsible way we will also empower others to do the same.
Our connectedness to all things means we have to question our actions constantly, making sure they are for the greatest good.
I have recently returned from a trip to California where I was lucky enough to spend some time on Mount Shasta and during meditation I received messages relating to faith and trust.
We are all on this journey together and the only things stopping us from doing great things and being content and happy beings is our fear.
So lets release any worries or fears about this year and grab it by the horns with the knowing that we we be perfectly guided and looked after along the way.
While I was away I visited a fantastic vegetarian Cafe in Los Angeles called Cafe Gratitude where I had the most delicious kale salad. I wanted to share the recipe with you as I think its a good and nourishing recipe to throw together whenever you feel a little depleted of vitamins and minerals.
Ingredients
makes 4
4 cups lacinato kale, de-spined and chopped finely
1 cup carrots, shredded
1 cup cucumbers, julienned
4 nori sheets, shredded into 1/2 inch pieces
2 large avocados, chopped into 1/4 inch cubes
¼ cup green onions, chopped
¼ cup cilantro, chopped
¼ cup parsley, chopped
for dressing:
¼ cup olive oil
¼ cup tahini paste
2 tablespoons fresh lemon juice
2 cloves of garlic, minced
2 tbsps rice vinegar
½ tbsps nama shoyu (raw soy sauce)
½ tbsp sesame oil
¼ tbsp sea salt (to taste)
Preparation
1. Mix all dressing ingredients in a blender, blend till smooth.
2. Toss all salad ingredients in large mixing bowl with dressing. The longer you toss the better because you will massage the kale to be very tender.
3. To finish, garnish salad with green onions, sesame seeds and shredded nori sheets.
With all the cold weather we are having start your days with hot water and fresh lemon as this will warm the system to make digestion easier throughout the day and also support the liver.
You might like to incorporate our Cleanse or Energy powders into your day to support you over the next few months when the temptation for comforting, less digestible foods can be at a high.
I would like to say thank you for supporting Primrose's Kitchen over the last year and a half, we couldn't have done it without you. We are looking forward to lots of new positive developments in 2014 and no doubt some all important challenges.
A date for your diary is the Fortnum and Mason Market on Saturday 1st February where we will be sampling along with all their other artisan producers, so please come and say hello if you are in London, its sure to be a great foodie day!
And I leave you with two quotes for the start of the year. One by one of my favourite authors Wayne Dyer
"Be miserable. Or motivate yourself. Whatever has to be done, it's always your choice".
Wayne Dyer
and one by another chap I think you might of heard of…
"Remember that not getting what you want is sometimes a wonderful stroke of luck"
Dalai Lama