Happiness is here and now by Primrose Matheson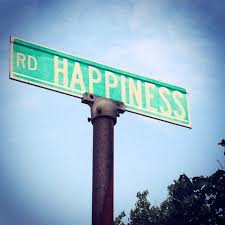 I heard something on the radio about happiness the other day.
They were saying that
50% of your happiness comes from your genes,
40% from simple things in life and
10% from chasing future dreams.

That first statement sounds very finite and leads us to feel rather disempowered. My belief is that we don't have to be ruled by our genes. We all have tendencies to do things or react to situations in a way that our mothers and grandmothers may equally have done. But ultimately when you feel a strong emotion or a tendency for physical expression from a trigger you can choose to react in the same way you always have or observe them as opportunities for growth and choose another route. I come from an impatient family where everyone talks very quickly, eats very quickly and there is generally a sense of urgency.
On my way back to Dorset this morning I left an hour to get to the station in my taxi as the following week I had missed my train. This morning we were doing well and then my taxi driver got pulled over by the police. I felt angry and frustrated immediately as i thought i was going to miss my train and then i caught myself and realised there was nothing I could do and this moment was as it was meant to be and by fighting it I was creating pain where there needn't be any. I smiled to myself as I let go of frustration and fear of missing my train.
We made it to the station with 5 minutes to spare and I looked up at the screens and only my train had been cancelled. Argh.. I cursed again in fear and then laughed, I mean what were the chances on a friday morning!
I saw the lessons in each of these moments. I realised I had a choice and once I had made the right one that felt right, the situation had no pull over me. I was free.
We all have freedom, its out god given gift, but some of us don't choose it. Often the ego gets in the way. Don't judge the ego but see it, observe it and go beyond it.
The seemingly mundane car or train journeys represent the simple things, just like scrubbing the bath or mopping the floor. When we can stop trying to get to the next thing more quickly and apply all our attention and resources to the present there is only happiness and fulfillment.
Having dreams are important as they drive you forward but remember that 10% is only a small proportion of the whole so concentrate on the other 90% and that 10% will take care of itself.
I leave you with a little song I was told whilst on a retreat at Findhorn in my early twenties:
"Happiness is here and now
I have lost my worries
Nowhere to go and nothing to do
No longer in a hurry"