I can't believe we are stepping into September after the fastest summer on record. There is an autumnal tinge to the air and I am already witnessing leaves in my garden meandering to the ground and whilst my vegetable garden is looking a little emptier the hedgrows are brimming  with the abundance of blackberries and hawthorn berries that I have been busy freezing and making tinctures  with. The beginnings of each new season brings with it the feeling for me of so much excitement which is probably why they say change is as good as a holiday!
Going organic comes with its challenges, financially for many of us but there are other ways to support our health and the environment and reduce waste which is all part of the ethos of Organic September.
I have been thinking about the best ways to live an organic lifestyle and have come up with the top 10 tips to do this.
1)            Study the seasons of fruit and vegetables in the UK so you can eat more seasonally
2)            Shop local in your health stores and farm shops
3)            Don't waste food – get a bigger freezer
4)            Put up a poly tunnel so you can benefit from a larger array of homegrown foods during the winter
5)            Do plant and vegetable swaps with neighbours and friends
6)            Filter your tap water to avoid the fluoride and chlorine contamination that causes ill health
7)            Look people in the eyes when you meet them and smile always and the world will smile back
8)            Forage for wild food and dry it for use as teas in the winter
9)            Go on local courses to learn about ancestral skills which can reduce your impact on the environment
10)          Once a month pick up litter on land or on a beach near you and inspire others to do the same
Oh summer how we love you, with your long, light days, your sunshine (well some of the time) and your promise of barbecues and beach time, floaty dresses and flip flops.
You've probably noticed that each season of the year makes you feel very differently and has a huge effect on your energy levels. In winter don't be surprised if you pretty much just want to hibernate – it's all about cosy nights in and comfort food. In Spring you're more likely to feel ready for new beginnings, decluttering and making plans for the future.
And Summer? Well Summer is the most expansive and abundant time of year. Your energy levels are at their highest and you can feel your most active and energetic. In Traditional Chinese Medicine, where living in harmony with the seasons is believed to be key to health and happiness, Summer is seen as a time of growth and manifestation, the key emotion of the summer is joy and the organs associated with summer are the heart and small intestine. It's a loving, joyful and fun time of year.
That all sounds pretty great right? Well yes, if you're in balance it most certainly is, but all that summer energy can push us to do more than we should, leaving our minds busier than ever while our bodies feel run down and tired out. In this most yang (fiery, fast moving and active) of all seasons an imbalance of the summer's fire energy can make you feel exhausted, agitated, lacking in joy and unable to sleep and releasing deep-seated stress, tension and tightness in the body. Try this 30 minute sequence to get you ready to radiate joy and have you shining your brightest along with the summer sun!
Summer Yin Yoga Sequence
As always in your yoga practice listen to your body and only do what feels good for you.
Childs Pose with a Side Stretch – 3 minutes on each side
Kneel on the floor. Sit on your heels with your big toes touching and take your knees hip width apart or wider. Lower your upper body towards the floor keeping your hips heavy towards your heels. Walk your hands out in front of you as you fold forward. From this regular child's pose walk both your arms over to the right as far as possible feeling the stretch through your left side body. Stack your left hand on top of your right for a deeper stretch.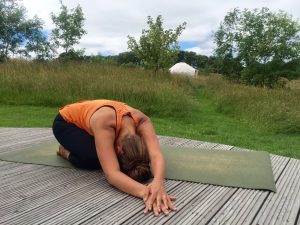 Sphinx Pose – 3 minutes
Lie on your front. Lift up on to your forearms with your elbows underneath your shoulders. Bring your palms together. Relax your legs and your shoulders, let your weight drop towards the floor. Breathe deeply as you hold this pose.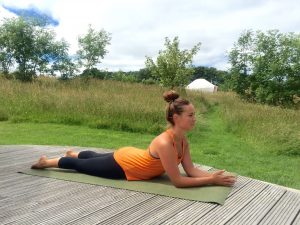 Jen's Favourite Shoulder Opener – 3 minutes on each side
Lie down on your front. Take your right arm straight out to the side along the floor in line with your shoulder and your palm facing down. Slowly start to roll on to your right side until you feel the stretch in your right shoulder. This may happen very quickly so don't push yourself to go too far in this one. If your neck feels uncomfortable use a blanket underneath your head as a pillow. If your shoulder is very open you can bend your right knee and bring the sole of your left foot to the floor with your knee pointing skyward. Finally wrap your left arm behind your back. Hold for 3 minutes. Roll out of this pose very slowly resting on your front for a few moments before repeating on the other side.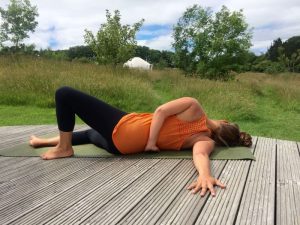 Seated Forward Fold – 5 minutes
Sit down with your legs straight out in front of you and your feet hip width apart. Slowly fold forward, hingeing from your hips. Let your back round and allow your head to drop towards your legs. Rest your arms on the floor alongside your legs.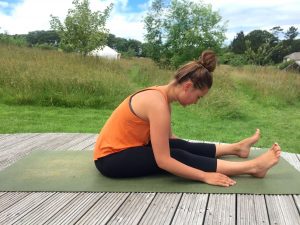 Supported Fish Pose – 4 minutes
Roll up a thick blanket, towel or extra yoga mat and lay it across your yoga mat. Lie down on your back with the roll of blanket underneath your upper back, running across the back of your shoulder blades so you feel a gentle lift in your chest. Stretch your arms up over head and bring your palms together. Try to touch your thumbs to the floor behind you. Either keep your knees bent with your feet on the floor or straighten out your legs if that feels comfortable on your back.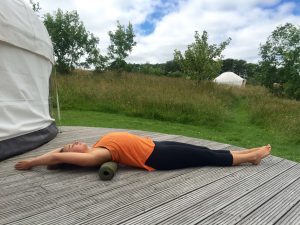 Savasana – 5 minutes
Lie down on to your back with your legs outstretched. Position your feet at least hip width apart. Let your toes roll out. Take your arms out just a little way from your body. Turn your palms to face up. Close your eyes and rest in stillness for 5 minutes, or longer.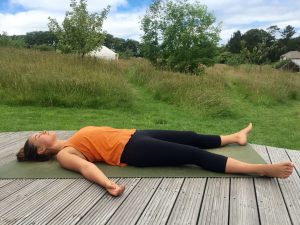 By Jennifer Austin
Jen is the founder of Shine Yoga and runs sun saluting, superfood feasting, hammock swinging, star gazing, ultimate yoga retreats in some of the most beautiful places on earth. Between retreats you'll find her by the beach in Cornwall eating avocados, surfing, creating healthy vegetarian recipes and teaching unique yoga classes that are filled with as much joy, music and laughter as possible. Go and see her at shineyogaretreats.com
Jen's created an amazing free Shine at Home guide for you so you can create your own mini yoga retreat experience at home. Click here to get 2 free online yoga classes, 4 healthy recipes, a guided meditation audio, a natural face mask, day planner and so much more!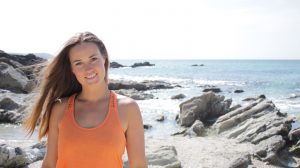 Primrose's Spring Tips
Spring is finally here thank goodness and we can finally shake off the last remnants of the winter and blossom with new energy and new life like the flowers around us.
As I walk into my garden and the fields around where I live it always surprises me how much life and growth lives around our feet and in the hedgerows. Although it can all look like a blanket of green there is so much variety when one looks closer.  The irony is we are often living too quickly to see it.
Things to look or for at this time are:
Nettles
The nettles are easy to identify and you will probably find them in your garden. Pick the new sprigs at the top of the plant as this is where the most energy is held in the plant. Add it to hot water for a tea, blend it down with leeks and wild garlic for an immune boosting soup.
Lay it out on cooling racks above a radiator and dry for use over the winter.
Wild Garlic
I love this on its own as a salad, the leaves torn into strips, the flowers sprinkled over the top and a dash of olive oil, squeeze of lemon and a sprinkling of salt. So fresh, simple and delicious and a great antibacterial vitamin C rich food.
Hawthorn flowers
I love nibbling these beautiful delicate white flowers as I'm on walks or using them to decorate food. They have a strong flavour and a great affinity with the heart and circulation system . Waking up your heart to the spring beauty unfolding around you I always think. I have been sipping them in a tea for a sore throat lately.
Lettuce
If you sowed some lettuce early under cover like I did you will be able to enjoy your own fresh mixed salads. Most industrial salad is sprayed with a huge amount of chemicals and as lettuce is mostly water you end up ingesting most of these so it is important to go organic and grow your own. Easily done in a windowsill if you don't have a green house.
Dandelion
Spring time is an important time to detoxify and so we need to give our kidneys and liver all the help they can get and rid ourselves of what has accumulated over the winter. A great way to do this is with digestive bitters as bitter things stimulate these two pathways.
You can eat the bitter dandelion leaves in salads but my preference is to dig up a root, wash it and put it in a jar with vodka, spices (peppercorns, cardamon, cloves  etc) and fruit zest or whole fruit (apples are good) and leave for a month. Then add a little to some warm water and drink first thing in the morning.
Primroses
I am probably biased as it is my namesake but I love the Primrose family (primula vulgaris) which includes cowslip. Not only are they a natural sedative and relaxant so great for chewing if anxious or adding to tea and salads.
Plantain
A magical plant known for its effects on bites you see it growing in paths and lawns and is one of the best antibacterial, anti inflammatory healers. If you get a cut, sting or bite (any infection) you can chew the plant and place it on the infected area and it will heal itself. You can use it in salads or create your own tincture with it by filling up a jar and topping with vodka and leaving for a couple of months and straining.
Seaweed
I am lucky enough to live near the beach and so seaweed is another source of nutrients available to me. Areas of headland that stick out into the sea along the coast usually provide abundant areas for rock clinging seaweeds at low tide like sea salad, peppered dulse and kelp.
Wild mustard
This is a peppery addition to salads or you can cook it like spinach. It's also useful to dry the leaves and stems and use in stews at a later date.
Cleavers
An old favourite for supporting and cleaning out the lymphatic system this plant is found in abundance and will attach itself to you as you walk past it with its little hooks. Following the doctrine of signatures it hooks out toxins through lymphatic drainage.
You can chew it as you walk, add it to smoothies or hot pots. You can also make tinctures using pure alcohol to use during the winter. A great one to eat as a support in any chronic health conditions.
The above plants are easily found and described in full on the internet so I haven't use full descriptions. Do not eat anything you cannot identify.
Spring is a time of abundance in the plant world so storing flowers and leaves in oils or alcohol or drying them and storing in air tight containers is a great thing to do like our ancestors would have done.
If you live in the city find an excuse to get into the park or out to the countryside for the weekend and walk barefoot and absorb negative ions which work like antioxidants in our body and grounding the airy energies that can cause confusion, depression or anxiety.
Plants that can clear the air and improve health are spider plants and peace lilys so place them in your home and make sure you do have a good clean out and dust the cobwebs away to move through the rest of 2017 with nothing holding you back.
I think the process of planting physical seeds is as important as planting your mental seeds of intention for the coming year so even if you just have a pot in a window shelf shower it with love, sunshine, water and kind words and watch it flourish. When we become a vessel of love, light and generosity the circle is complete and the same will return to you.
Spring Blessings to you x
It's a New Year and that time when we throw ourselves into our new years resolutions. Often our diet, exercise routine and social life change in an extreme way for 3-4 weeks as we earnestly try to start our year on a good footing and shed some excess weight. (more…)
By Primrose Matheson, founder of Primrose's Kitchen www.primroseskitchen.com
January is here and we all want to do the best for our bodies and ourselves, and start the year the way we mean to go on.
I often have lots of people asking my view on the different diets that are being promoted at the moment. Do I go gluten free? Wheat free? Alkaline? Paleo? Sugarfree? It appears like a terribly confusing situation – but it needn't be.
(more…)
Dear All,
How has healthy become so confusing and at times extremely costly? With all these new powders and fruits appearing with added health benefits. Do you sometimes wonder which one should I choose and use? (more…)
Dear All,
Hello all, as we all know obesity is a growing issue with the worry that the increase of obesity and associated health problems could result in the older generation outliving the younger generation. (more…)
Skills for Empowerment
We love the spring and summer months because they represent new starts, new life and there is abundance everywhere. Everything seems possible and positivity is in the air as the vitamin D levels from the sun soar in our body and the Vitamin C from the lush greens replenish our wintered system.
Urdhva Dhanurasana (Upward Bow Pose)
Summer is here! Phew, it feels like it has been a long time in coming this year so for us July is all about getting outside and embracing all that the British summer has to offer – trips to the beach, swimming in the sea, outdoor yoga classes, watching the sun setting and the sun rising, picnicking with friends and family, bike rides and evening cliff walks enjoying the smell of the honeysuckle, fresh and abundant vegetables and soft fruit, bbqs and laughter, festivals and camping, live music and dancing. This month is all about having fun, enjoying the abundance in all life and creating more happy memories. (more…)
I have been asked recently for some personal growth book recommendations.
I love either fictional stories with spiritual morals or helpful guides for triggering an understanding of what we are not so we can better understand who we are. Here are  a few favourites that I often dip back into:  (more…)