Benefits of herbal teas… by Fiona Waring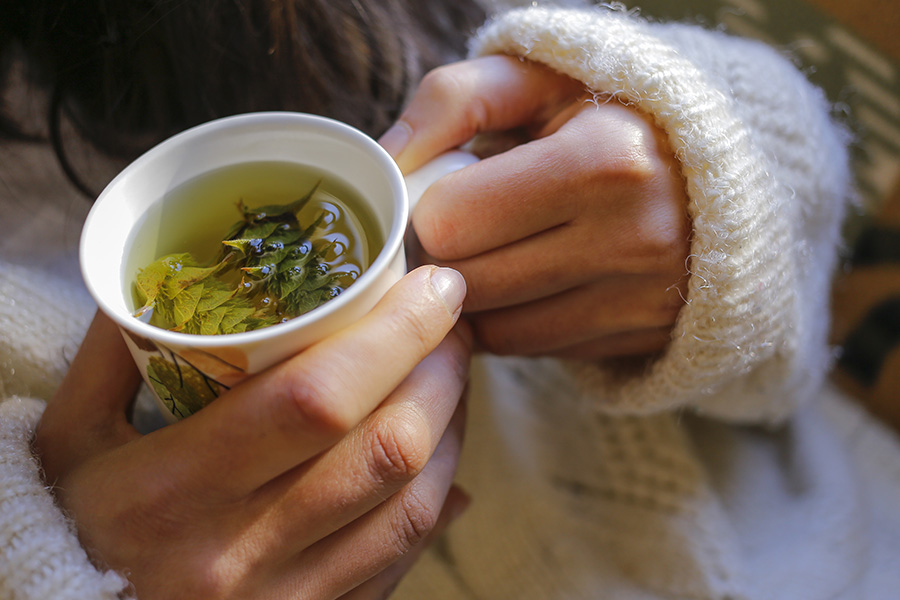 Dear All,
I hope all is well. Sorry for the space in between newsletters. The nutrition world has been very busy. So the weather is lovely, look after that skin. Keep hydrated..yes lots of water not wine. If you want a few ideas on how to hydrate with a little flavour please read below. I have even added medicinal information on various herbs. Please be aware herbs like licorice are very powerful on the adrenals.
People with high blood pressure should not drink teas containing licorice. Also watch if you are also take medication such as diuretics (nettle, dandelion) and anti-depressants (St John's Wort). Both these herbs may interact with your medication.
Perhaps the easiest way to use and enjoy herbs is to make herbal tea. Herbal tea (sometimes referred to as "tisane" because the term "tea" used to be reserved for beverages made from a specific plant,Camellia sinensis) can be made from the leaves, flowers, seeds or even the roots of herbs, whether freshly picked or dried and stored for the off-season.
Whatever herb you choose, the process is simple: pour boiling water over crushed herb and let steep. OK, maybe brewing a great cup of tea takes a bit more finesse.
Most tea gardens are places to enjoy a cup of tea, not grow one. You can grow and harvest herbs for tea from any of your existing gardens. Fennel grown in the vegetable garden will brew just as flavorful as fennel grown in a pot on the front steps. However if you do decide to create a garden space devoted to tea herbs, be sure to leave space for a small table and chairs, so you have a spot to relax and enjoy your tea
Tips for Growing Herbs for Tea
1. Harvest early in the day, after the dew has dried, but while the herbs are still lush in the cool of the morning.
2. Most herbs are at their peak just before they bloom.
3.Try not to tear or crush the herbs until you are ready to use them. You don't want to waste any of the essential oils.
4. Harvest all your herbs at the end of the season, once a frost is forecast. You can dry the herbs whole and store for winter teas or for use as seasonings.
How Much of the Herb Is Needed for Herb Tea?
1. Fresh Leaves: 3 teaspoons per cup of water
2. Dry Leaves: 1 teaspoon per cup of water
Herbs to Grow for Herbal Teas
This is a matter of personal taste, but the following herbs have been brewed for ages:
Basil (Lemon Basil)
Chamomile
Fennel
Lemon Balm
Lemon Verbena
Mint (Peppermint, Orange Mint)
Rose Hips
Rosemary
Sage (Pineapple Sage)
Lavender
Making Herbal Teas
Don't be afraid to mix and combine herbs. If the scents mingle well, the flavors probably will too.
·dd a squirt or splash of fruit juice to the tea and transform it into an herbal punch.
Health Benefits of Burdock:
Cleanses the blood
Stimulates the liver
Helps to regulate blood sugar
Anti-inflammatory
Antioxidant properties
Health Benefits of Cardamom:
Eases stomach cramps
Stimulates digestion
Reduces gas and flatulence
Chewing the seeds can freshen breath
Health Benefits of Chamomile:
Soothes the stomach
Calms the nerves
Induces sleep
Eases cold symptoms
Health Benefits of Cinnamon:
Improves circulation
Eases cold symptoms
Relieves stomach upsets
Reduces menstrual cramps
Regulates blood sugar and insulin
Health Benefits of Dandelion:
Effective diuretic
Stimulates and cleanses the liver
Expectorant
May reduce the incidence of gallstones
Health Benefits of Fennel:
Improves appetite
Stimulates digestion
Eliminates flatulence
Relieves stomach cramps
Soothes throat, and coughs
Health Benefits of Ginger:
Improves circulation
Relieves cold and flu symptoms
Eases stomach cramps and nausea
Reduces menstrual cramps
Regulats blood sugar
Health Benefits of Hawthorn:
Lowers cholesterol
Balanced blood pressure
Strengthens circulation
Improves overall heart health
Anti-oxidant
Health Benefits of Lemon Balm:
Lifts the spirits
Relieves stomach disorders
Relaxes the nerves
Health Benefits of Licorice:
Relieves coughs and sore throats
Improves digestion
Eases menstrual cramps
Believes to increase libido
Reduces seasonal allergies and congestion
Health Benefits of Mint:
Eases many stomach and digestive problems
Helps relieve headaches
Relaxing
Health Benefits of Nettle:
Cleanses the blood
High in vitamins A and C
Improves liver and kidney functions
Eases coughs and other respiratory problems
Relieves diarrhea and constipation
Health Benefits of Raspberry Leaf:
Eases diarrhea
High in many vitamins and minerals
Menstrual aid
Antioxidant
Health Benefits of Rosehips:
Source of vitamin C
Antioxidant
Prevents bladder infections
Eases headaches
Health Benefits of Sage:
Calms the nerves
Improves digestion
Eases lung congestion and coughs
Health Benefits of Skullcap:
Soothes the nerves
Reduces anxiety
Eases PMS mood symptoms
Health Benefits of St. John's Wort:
Relieves anxiety and irritability
Lifts the spirits and improves mood
Relaxant
Health Benefits of Thyme:
Improves immune system
Promotes perspiration
Eases sore throats and coughs
Antiseptic
Health Benefits of Valerian:
Relaxant
Promotes sleep
Eases the nerves
Relieves stomach cramps
Health Benefits of Yarrow:
Reduces cold symptoms and chest congestion
Improves digestion and appetite
The information here should not be considered medical advice, and you should always consult a physician before beginning any herbal tea therapy
Thank you for reading. Enjoy the sun!!
Regards
Fiona Waring
T: 01747 855934
E: eatyourgreens@fionawaring.com
Now running a Clinic from Shaftesbury Health Practice on a Thursday. Other days Riversmeet, Gillingham.